Fax OCR Cover Sheet Solution
---
Build highly automated workflow processes and document management solutions with Innoport's fax optical character recognition (OCR) cover sheet capability. With this data capture solution, you could automate file naming, file indexing and document routing - even open the door to new revenue streams by employing this feature as a back-office process on fresh product developments!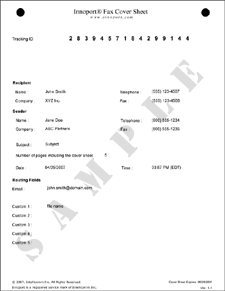 How it works:
Configure OCR related routing rules in your Innoport account online to specify actions to apply towards purposely designated fields from the fax cover sheet prior to delivery of the electronic fax document.
Distribute your OCR enabled Innoport fax number and an Innoport webpage that displays a specially designed online form where information is entered to create the fax cover sheet.
Generate the OCR cover sheet automatically via Innoport's Fax OCR cover sheet API.
- OR -
Senders go to the webpage address given and they fill in the necessary fields (dependent upon each business' requirements) of the online form, which when submitted, generates a printable Adobe® PDF fax cover sheet containing a unique tracking ID.
If the OCR cover sheet is generated via the FAX OCR sheet API, then send OCR cover sheet to your customer (sender) or the sender prints the PDF fax cover sheet. Then the sender and faxes it along with other forms or documents to your OCR enabled Innoport fax number.
Innoport receives the fax cover sheet and the documents, employs an OCR process to capture the unique tracking ID and matches the information and routing rules of the corresponding Innoport account.
The OCR fax cover sheet capability is available as an optional add-on to our business service plans, the Jump Start and Standard Corporate plans, and subscription packages are available to accommodate from light to heavy volume usage. Click here to review pricing for the optional fax OCR subscription packages or sign up and get started!

For more information or to learn more, contact the Innoport Sales team online or call us toll-free at 1-877-Innoport (466-6767).