Setup Fax to Email by Innoport
---
Receive faxes to your email in PDF or .tif format. Dedicate your personal Innoport phone number as a fax number or use it for both fax and voice. If your number is designated towards fax and voice, Innoport automatically distinguishes between a voice call and a fax signal. Therefore, the sender does not have to press any additional keys for faxing when the fax tone is detected.

Once a sender faxes to your number, the fax message is automatically converted into an electronic file and immediately delivered to your email account(s). You may specify any email address for receiving messages and you may even assign up to four destination email addresses per phone number for simultaneous message delivery. Faxes are attached to your email in either PDF or .tif format, whichever option you choose. Because messages are delivered in common file formats and most computers are outfitted with programs for opening one or both of these file types, there should be absolutely no software for you to install. PDF opens with the widely recognized free Adobe® Reader® or with Adobe® Acrobat®, which may be used to annotate faxes. .tif is another standard format that most image viewers support. Once the fax arrives, you may:
open the file for viewing or printing;
save the file for local storage;
forward the file attachment via email to a new recipient;
fax the file to another party.
Log into your account online to change your settings at anytime, including the email address(es) for message delivery and your file format preferences. Turn on the embedded fax option and you will be shown the first page of the fax within the body of the email for quick preview. This feature allows you to see who has faxed you without opening the file attachment and is useful for helping to prioritize your work load. Time-sensitive material can be taken care of immediately while less important messages can be handled later. Plus, add your company name or your name to the remote fax station ID (CSID) to be displayed on the sending party's fax machine.

Enable notification options for always receiving text message alerts with no file attachments whenever a new message arrives. Notifications can be sent to any email address, so if your wireless device, such as a cell phone or pager, can receive emails, specify the email address associated with this device as a delivery email address. Once you receive the alert, download the fax from the activity log in your online account. Alternatively, if you wish to be alerted whenever a new fax arrives so that you can retrieve it from your email account, specify the email address tied to your mobile device along with a regular internet email address.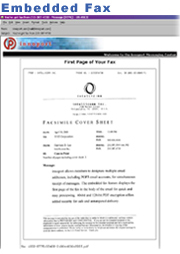 Although faxes arriving to your email already produces a layer of privacy verses faxes coming off of a shared fax machine, select service plans also offer fax reception in PDF format with 40-bit or 128-bit encryption to safeguard the contents of the messages. To use 128-bit encryption, you must have Adobe Reader 5.0 or higher. Lower versions of Adobe Reader only support 40-bit encryption. The latest version of Adobe Reader is available for free download here. If you choose to encrypt your faxes, your documents will be password-protected and these faxes may only be viewed by supplying the appropriate password when prompted. You have full control on creating and changing the password for the encrypted faxes arriving to your account.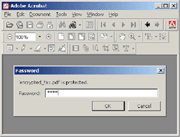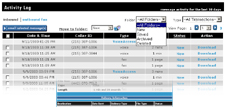 Inbound Activity Log
Each account comes with an online activity log which displays the last 30 days of inbound message transactions. Your 30 day message history allows you to review, organize, resend and download messages.