Send Faxes by Email and Online by Innoport
---
Send faxes through the internet to recipients worldwide from your Innoport online account or from any email account. With online faxing from Innoport, there is absolutely no software to install and no telephone lines or fax modems required. Webfax and email to fax both offer simplicity and ease of use while remaining rich with options. Specify just a single file or combine many files to create your fax document for sending to one or multiple fax numbers at once. Both features support a wide variety of file types.
Microsoft® Office programs: Word (.doc, .docx), Excel (.xls, .xlsx), PowerPoint (.ppt, .pptx)
Document formats: .pdf, .txt
Image formats: .bmp .gif, .jpeg, .jpg, .tif, .tiff
Web Page: .htm, .html
Use your own cover page or generate a custom cover sheet. Store fax numbers of the people you fax to frequently in your online list management tool. Add your company name or your name to the remote fax station ID (CSID) for inclusion in the fax header information of outgoing faxes. If you send fax broadcasts, you may find the exclusion list helpful as well as the option to specify a text file as your recipient list. Additionally, mail merge is available for personalizing bulk faxes.

Faxes are sent immediately and Innoport automatically re-attempts to fax numbers which ring busy or go unanswered three times. Once a fax transmission has completed, a confirmation email is delivered to you. You may change your preference to receive notifications only for particular statuses (successful, failed, busy, or no answer).

Innoport's outbound faxing capabilities fit users with varying degrees of technical knowledge. Whether you are just starting to use computers and the internet or you possess a deep proficiency in technology, you will be equally impressed by Innoport's flexibility. Our online help guides provide you with step-by-step instructions as well as screenshots to get you started. If you are a developer, please be aware that you may even choose to incorporate Innoport's outbound faxing API into your applications.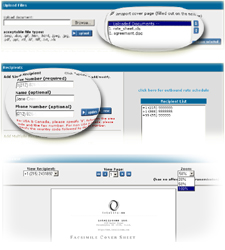 webfax
Access webfax from your online account and follow a simple, step-by-step process to send your faxes out. Upload files, enter fax numbers and submit! Re-order your files after you upload them. Fill out an optional cover sheet. Enter fax numbers manually or choose from the list management tool or your Innoport address book. Before submitting, a preview of the entire fax is presented to you for confirmation. The final step of webfax provides you with a summary as well as an estimate of the charges for verification. After submitting, remain online to view a real-time status report or log offline immediately and wait for your delivery confirmation email.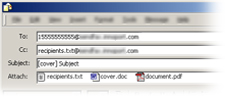 Email to Fax
Email file attachments for delivery to a fax number! Approve up to 25 email addresses per account for sending faxes. Attach as many files as you wish to be used as your fax document. In addition to your files or as an alternative to attaching any files, you may enter text in the subject field and email body to be used as the corresponding fields of a custom cover sheet that Innoport generates. Then simply specify individual fax number(s) or an attached recipient file in the convention of an email address and send your fax request. This convention is fully explained in the Email to Fax guide for members.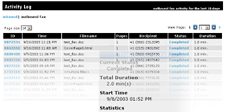 Outbound Activity Log
Your outbound activity log is an online history displaying the last 30 days of outbound message transactions for your account. Review such details of a transaction as delivery status, transmission start time and duration. Resend faxes to numbers which were busy or went unanswered. View a real-time status report for faxes, such as fax broadcasts, which are still in progress.
Mail Merge capabilities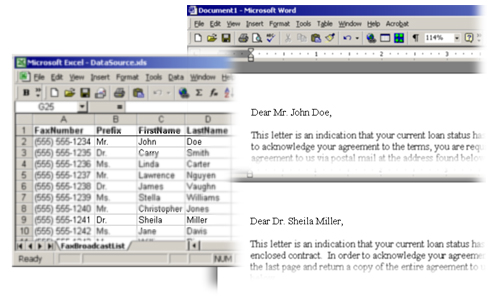 Personalize faxes to multiple recipients! Innoport allows you to merge a Word document with merge fields stored as a file in Excel. Simply upload a Word file as your fax document and specify your data source. Microsoft offers an entire resource center to walk you through the easy task of mail merging and Innoport's online tutorial instructs members on using this feature.